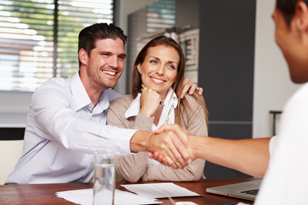 Purchasing a home is a very exciting time, and being well prepared will help you make better decisions. Take this opportunity to learn more about home buying and the mortgage process. Below and throughout this site, you will find information that will help you with the purchase of your new home.
Am I really ready to buy?
Buying a home offers many advantages, one of the most significant being that it allows you to build equity (ownership) when you pay your mortgage each month. A common myth is that monthly mortgage payments are more expensive than rent. But, in many cases, mortgage payments can be even less than rent. When considering home ownership for the first time, you need to decide whether buying makes financial and practical sense for you right now or if you are better off renting. Consider both the advantages and disadvantages to renting as well as buying, and weigh the pros and cons for your particular situation.
How much "house" can I afford?
The first step toward finding the right home is to quickly compute your purchasing power and determine how much you can afford to pay each month. This saves you time by allowing you to focus on homes in your price range.
Some up front costs include:
Down payment: Typically ranges from 3-30% of the cost of the house. The more you can put down, the greater equity you will have in your home and the lower your monthly payment will be. For down payments less than 20% you may also need to pay mortgage insurance.

Closing Costs: Typically range from 2-6% of the loan amount depending on your area.

On-going Costs:
Your housing costs can include the following:
Monthly mortgage payment

Homeowners insurance

Flood Insurance (if applicable)

Property taxes

Utilities

Maintenance
How much can I get pre-qualified for?
Before you go looking for a home, you should see if you are financially able to get a mortgage and get an estimate of what you pre-qualify for from a lender. If you are working with a real estate agent, getting pre-qualified lets them know you are a knowledgeable and serious buyer. Just fill out or Quick Quote form and we will give you all of the answers.
Don't Wait! Find out about your options Today!
"I had a very difficult time finding a lender. I contacted Residential Savings Mortgage, and from the very beginning, the staff was congenial and professional. They helped me immensely, and saved me a considerable amount of money. They communicated regularly, and put my mind at ease, every step of the process. I have never dealt with a more wonderful financial company in my life. The entire team worked diligently on my application, and because of that, words cannot express my gratitude. I recommend them highly, and if need be, would not hesitate to call on them again in the future."

"These guys are great! They went above and beyond their jobs to make sure I got approved for my mortgage. They were able to successfully navigate the bank's requirements to make sure I received the best deal for my dream house. I would recommend them (and have) to anyone that needs a mortgage."

"Had a great experience with them and would recommrnd them and use tgem again myself."

"Will Morgan and team go above and beyond. Will works against all odds to make things happen. He has an excellent understanding of customer desire, financial ability and means. He works within the limits of customer desire and financial ability to make dreams come true. If you want the best Broker there is, look no further, Will Morgan's your man!"

"This is the third home that I have purchased and I never had a Real Estate professional that cared more than Will Morgan. Extremely knowledgeable and explained the process thoroughly."

"Will helped me purchase a duplex last year. He was fast, he was efficifent. He's got a lot of experience and provides excellent customer service. He guided me through the process and made sure I understood at every step. I was very happy eith the results. Highly recommended."

"Will Morgan was our Mortgage Broker for three properties last year. Excellent service! Very knowledgeable, his staff is courteus and prompt. All around efficient and a real pleasure conducting business with him."

"wow is all i can say, from start to finish he closed the purchase on my loan in 14 days. He spoke with me on the 10th of the month and we closed on my purchase on the 24th of the month. The greatest service i ever seen in this business. he always answered the phone, was always pleasant to deal with, a true great business man and person."